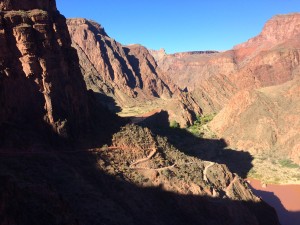 Answering the call of the canyon…
Maybe the first time you saw the Grand Canyon you flew over it. Maybe you took a family trip and viewed it from one of the rims. Maybe you hiked it but just headed down a few miles.
We trust that somewhere along the way the lure of hiking the canyon from "Rim to Rim" tugged at you and as well you found out that there are trails that exist that connect the canyon from one rim to the other rim. You began to do your homework on the "logistics" of this hike. Maybe you visited our hike-it page here or the NPS website, but you knew no matter how well you lined up the logistics you still needed to train and be in shape for this monster of an endeavor. This canyon crossing hike is 23.9 miles via the North Kaibab trail to Bright Angel trail from one rim to the other and you must "climb" your way out (21.3 miles if you take the South Kaibab trail to North Kaibab trail).
You trained and trained and finally the day arrived. The first time you embarked on the "Rim to Rim" hike you had butterflies as you had no idea what to expect (and you still will each time). You just wanted to "finish it". You stopped during parts of it trying to "savor" it but you wanted to make sure you had enough gas left in the tank to "climb" out successfully so you had butterflies again even drinking that amazing iced cold lemonade at Phantom Ranch which to you was what you thought your half way point. You did have the gas in the tank (COURAGE) and you did climb your way out only to arrive at the other rim thinking, "did I just do that?" You probably went and showered and propped up the feet, maybe even raised a glass with some buddies. You were satisfied, maybe even said "one and done". You were not just satisfied, you were PROUD and rightfully so as you just joined the less than 1% of all visitors that dare to take on the hike. You worked your tail off training and you finally did it. You "earned" your way into the club by completing the Rim to Rim hike of the Grand Canyon.
You went back home and most likely you told all of your friends about this hike and maybe even changed your profile picture to you hiking this canyon as you were so fired up about this accomplishment. Time went by and you went back to "normal life" and then the tug came again and you started looking back at the pictures you took and maybe closed your eyes and took time to play back the hike and the memories of that special time in your mind. The blisters and the body finally healed and as you reflected back you started wishing you had taken more time. You realized that this one hike was the most amazing experience, adventure and perspective of your life. You made a connection with the trail and the canyon and now you wanted to go back and really breathe it in, you wanted to become one with it.
Whatever the reason, our guess is you want more of it. What is "it" that we get from this hike, from this canyon? It's different for each of us but you know deep down you want to "pause" this crazy world we live in and this thing we call life for a bit and go back. You are thinking maybe that hike and spending time out on those trails in that canyon was really living, you tell us.
The Appalacian Trail (2,160 miles) and Pacific Crest Trail (2,650 miles) take months to hike, the John Muir Trail (211 miles) weeks but the Rim to Rim hike of the Grand Canyon can be done in one day, two days, three days, whatever your heart desires and your body is prepared for. You can take a few days and camp out at the bottom and truly experience the adventure of the canyon and the river or you can hike to one rim, have a great dinner, rest and then head back down to do another Rim to Rim maybe switching trails and taking South Kaibab down this time.
Whatever the itinerary and the logistics you will work it out but at times your mind will start messing with you. You will wonder what you still have left in the hiking tank and could you do another Rim to Rim. You know you could and this time you have "experience".  Maybe this is even the year for a Rim to Rim to Rim hike because you would rather spend more time on foot in one of God's greatest creations than taking the 212 mile drive back around and you are in great shape. No matter if it's another Rim to Rim or a R2R2R you know this place and these trails are tugging at you and rest assured that this canyon will always call you back once you experience the blessing of hiking it.
OUR ADVICE: LISTEN TO THE TUG AND THE CANYON CALLING YOU BACK!
Throw these thoughts in your head for first timers and repeat hikers: You don't have to take a leave of absence to hike this, your family can come with and/or they can chill on one of the rims for a day or so as you go get that which your soul is yearning for from the trail and canyon.
BOTTOM LINE: GO GET IT!
AND please remember to hike the canyon responsibly and respectfully.
For those that want to "officially" join the club that have completed this hike (you are on the honor system) please fill out the form to the right.
For those wanting to share part of their Rim to Rim "experience" please share your story below: