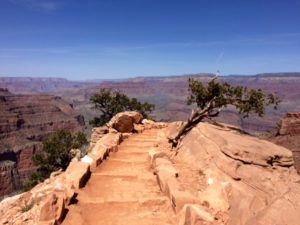 Waypoints…
A waypoint is a reference point that helps us know where we are and where we' re going. Basically any single specific location. A waypoint can be a specific part on the trail like on South Kaibab where the beautiful tree is. On a GPS if you save that location you are making a waypoint.
This past weekend was a blissful and soulful time at the Grand Canyon. I took the trip solo (which I often do) only because at this point in my life I crave some necessary solitude so I can re-calibrate my inner compass allowing myself permission to hear my inner voice and re-connect with spirit. I write in my book about learning how to make YOUR voice the loudest in your head. The KEY is to ALLOCATE the time in the places that allow this to happen.  There's no better place to do this than the hiking the Grand Canyon!
The Grand Canyon, and specifically the inner corridor trails, have a special place in my heart and my mind because you literally SEE up close and personal a perspective of something greater than anything you can comprehend and those well marked trails allow you time to truly go within and think and feel the things that "tug" your heart.
The Grand Canyon takes your breath away and hiking it wakes up your soul, literally. I have hiked Rim to Rim and day hiked the inner corridor trails quite a few times so I can pick out certain waypoints that resonate with me. Trust me, the entire trail makes me feel alive, but there are specific waypoints that create memories in my head. I can look at a photo of a waypoint and know exactly how I was feeling and what I was thinking. Think of waypoints as saved locations. Here are a few of my favorite waypoints with regard to the Grand Canyon and the trails…
Michelle