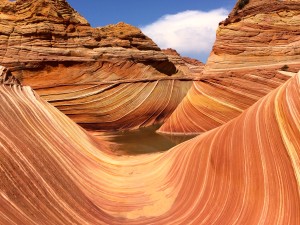 The "WAVE" of Life…
The Wave is located within the Paria Canyon-Vermillion Cliffs Wilderness (Arizona) and is administered by the BLM. A day-use permit from BLM is required to visit the Wave. Access to the North Coyote Buttes Wilderness Area is limited to just 20 permits per day. Did I just say 20 permits per day? Yes, needless to say people try for years for that "lucky" day.
August 20, 2016 was my lucky day. I have wanted to visit the Wave since I moved to Southern Utah 11 years ago. Similar to hiking Rim to Rim of the Grand Canyon, these kinds of "wants" were beyond heart tugs. These canyons of the southwest have a piece of my soul. So much so that I truly feel that I had the calling years ago when I would see dream like images of the Grand Canyon, Zion National Park, Bryce Canyon, etc. in magazines. It was as if these places were not real. I soon found out they were and my life changed in 2005 when I would take the leap to find my way into all of them.
The Wave was an interesting hike like no other. While the Rim to Rim hike of the Grand Canyon is well marked the Wave hike is not. You must follow a map provided with your permit and/or hire a guide to go along with you. One must HIKE SMART as you could be in for a big mistake if you are ill prepared as you are hiking mostly on sandstone where temperatures can reach 120 degrees in the heat of summer.
I found myself feeling like I was in the outskirts of "Bedrock" from my early days as a kid watching the Flintstones! The sandstone buttes were awe-inspiring. The anticipation of hiking up to the Wave and touching this formation of what wind, sand and time has built and seeing God's artwork up close and personal was priceless.
We enjoyed the three-mile hike leading up to the Wave but the time spent in and around the Wave was something truly special. Since only 20 people are out there per day one is offered precious time to simply spend enjoying this geological wonder in solitude.
What I found amazing was the time I spent simply just enjoying it all as if the innocence of a child was back and I could smile knowing I was living out my dream of being in the photos of the places that inspired me so young in my life.
There was one particular moment when I became one with the Neon Buttes (just east of the Wave) when I felt the happiest I have been since hiking Rim to Rim (again) this past May. I could not contain my smile as there was no other place in this world I craved to be than right there where I was.
Isn't it ironic how now as an adult these canyons and these trails can bring such childlike enjoyment? It's as if we, for just a moment, can let go of expectations and simply just "be" allowing ourselves permission to take in this thing we call life again the way I believe God wants us to experience it.
This has been a comeback year literally and figuratively for me. On the "to do" list post knee surgery was to hike some of my favorite hikes (beyond those in my beloved Snow Canyon State Park).  On the list were Observation Point (Zion), West Rim Trail (Zion), Angels Landing (Zion) the Fairyland Loop Trail (Bryce), and of course another Rim to Rim hike (Grand Canyon); however, if I was lucky enough to achieve the "dream season" I would cap it all off with a hike to the Wave. God blessed me with all of those wishes and more this year leaving me abundantly grateful for the life I have been granted out here amongst these canyons and the steps back to necessary peace and perspective.
May each of you grant yourself necessary time "off" this season from the expectations of the world and find your way to a trail or a canyon or a mountain that tugs your heart and soul like these canyons do me. I like to call the days spent on the trail my "gratitude" time as there is no place I would rather be and to have that kind of happiness in one's life seems to be the best gift in the world.
Peace, love, health and happiness to each of our beloved Rim to Rim Club® members this season and here's to riding the wave of life one "hiking" step at a time.
Michelle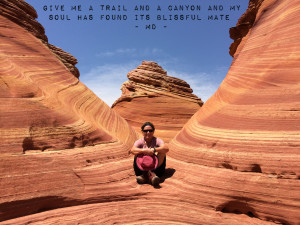 * Here are some pictures from some of my hikes this past year.