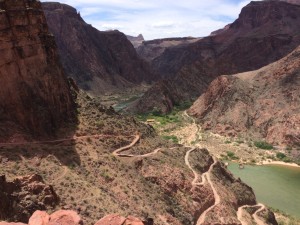 Well, it's been a few weeks since my May 20th solo one-day Rim to Rim hike and during the period before, during, and after the hike much "soul searching" has been done.
In August of last year I had another knee surgery. The knees and my surgeries are a consequence of a lifetime of being active and playing competitive sports very hard (i.e., pounding the body) and a few dives here and there. The goal going into the knee surgery in 2015 was to get the knee back for a spring 2016 one-day Rim to Rim hike with a dear friend of mine. It's amazing how life and the plans we make are sometimes thrown some serious curve balls along the way.
During my training for the hike (and recovery from the knee surgery) I took baby steps which meant pool workouts which slowly led into bike and weight work-outs then back on to the Stairmaster and finally taking on full fledged training hikes. I was getting stronger every day and felt so ready for the May hike.  I was also strong mentally as I would be heading into my book launch back home in Pennsylvania along with the opportunity to deliver some key motivational speeches for my sister program (Go Girl Futures Program®).  These events would all happen before the hike and for some reason training helps inspire me which in turn helps me to inspire others and all of this allows me to become mentally strong.
Well, a curve ball happened as my buddy that I was going to do the hike with was diagnosed with cancer in April. I was having second thoughts about doing the hike. I prayed on it and came to the peaceful decision to do the hike solo (as to not replace my buddy with another hiker). I wanted to go into canyon alone to release some prayers for her and other friends that were battling obstacles and take my friend's spirit with me.
What I didn't realize is that I needed the hike just as much for my own reasons. You see, since my mother passed in 2013, I have been fighting the good fight to keep my soul on its path. I felt the past few years I was dealt some tough blows (like many) and I strongly feel that without hiking, biking and having a true sense of purpose, my positive outlook on life would be put to the test (and it was) but training for the hike and staying active became the ultimate formula and prescription.
I realized during this time how much my faith in the Lord has carried me through the bumps in the road. I am non-denominational so I find much of my spirituality in nature.  On that May solo one-day hike I truly felt like God carried me and let me release some of the weight of the world I had been carrying on my back the past few years (the weight was also literally lifted off me at the finish when I reached the top of South Kaibab;).  I finished the hike, but this time more than any other time hiking in the canyon, I was extremely exhausted, yet I felt more alive than ever. It's like my body needed to feel all of the physical pain to truly know what it's like to feel alive again. My soul literally woke up simply by training for and taking on that one-day solo Rim to Rim hike.
The weeks following the hike I have been back on the bike in my beloved Snow Canyon State Park and in the pool as the body heals.  During this time, I have been continually pondering the question if this simple life in Southern Utah that I have built for myself will truly remain my path of bliss moving forward (post the loss of my parents). As I looked around on my rides in the first canyon that tugged me 11 years ago, I realized everything I am looking for that makes me happy (that they would want for me) is right here in front of me.
I love the "purpose" in this club as I enjoy inspiring and helping people to hike the Grand Canyon from Rim to Rim as this truly is part of what keeps me on my path of happiness and brings peace to my soul.
May each of you find what your soul is searching for and rest assured that there is no better way to start the process than by hiking the Grand Canyon from Rim to Rim!
Here's to choosing to stay in the places that make each of us the happiest!
Michelle