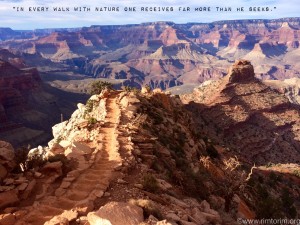 We all hike for a purpose. For me personally, I hike to clear my head, to spend time in nature on a trail where my thoughts are my own, where I can become closer to God and witness true perspective while "pausing" in gratitude for the simplest of things such as the ability to hear the water flowing from a stream, having the eyesight to watch a condor fly so effortlessly and peacefully in the sky above or being able to feel and breathe in a canyon sunset.
I moved out West a little over a decade ago.  I took the "leap" and centered in on Southern Utah as base camp as I could be to all of the places that light up my soul within minutes to just a few short hours.  These are the places you dream of, that you see on the cover of outdoor catalogs or inspirational posters.  I feel since a child I was being called to the canyons as I had pictures of these desert canyons on my dream wall and as an adult I finally had the opportunity to honor that calling.
Some of my favorite places to hike are of course the trails within the Grand Canyon but there are also many amazing hikes in my backyard such as Snow Canyon State Park and in less than one hour I can be in Zion National Park where I love to take on a day hike of Observation Point or Angels Landing. In the summer when the weather is hot I may head up to Bryce to hike the Fairyland Loop trail or other great hikes in the nearby parks.  When I am not hiking I am usually biking especially when the knees are spent after a long hike.  I simply love being active and outdoors and there is no greater place to do this than here in the canyons of the desert southwest.
As I get older I realize how precious the "moments" are and feel there's no better moments to chase than the kind that make your heart drop.  These canyons are what make mine drop as they are literally my "prescription" and "formula" to finding my bliss and my dharma.  I strongly feel that time spent on the trail is time spent with your soul.
I hope this website and forum inspire you to take on the "Rim to Rim" hike of the Grand Canyon and may your experience hiking it bring you exactly what you are looking to find.
Happy Hiking!
Michelle
* Here are some photos of a few of my favorite hiking spots here in the desert southwest…